When I saw this house shaped bookcase on the Facebook Marketplace I knew I could give it a great makeover. He wanted $50 I offered $25. He said no and I said no as well.
Fast forward 2 weeks and he contacted me, told me he needed the room and I could have it for $30. Win! I sent my husband right over.
It was in rougher shape than I thought. It's hard to tell from the photo but it looks like it was never sanded, the knots of the wood were showing through, there were stains dripping on the side and the tabs that hold the shelves were missing.
But of course nothing some sanding and paint couldn't help!
Some of the following links are Affiliate links. Click here to see my full disclosure.
Everything I used for this makeover I had on hand. The paint I used for the inside I was literally scraping the container because I was running out.
I cut down scrap wood I had on hand using my jig saw and even cut out doors to go from room to room.
I realized it needed one more shelf and I found a scrap board for that and cut it down as well.
I attached the room dividers using trim nails through the back and then caulked the seams.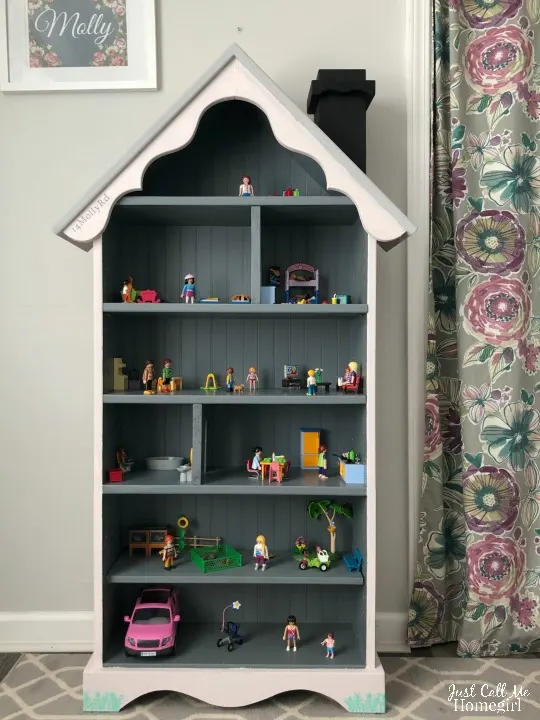 I added Molly's name as an address as well as some little flowers on the bottom with my Cricut Joy. – I love that little thing!
It was a huge hit and I'm happy now all her little Playmobil people have room to spread out and expand!