Cricut. All opinions are 100% mine.
This is a sponsored post written by me on behalf of
I am obsessed with my Cricut Explore Air 2 as you might have seen through my blog and Instagram. But you guys, I now have the new Cricut Joy in my possession and I am equally obsessed.
You might be wondering what I would need the Joy for if I already have the Explore Air 2 so I am here to tell you why I love it just as much, what some of the differences are as well as 5 little ways you can use the Cricut Joy throughout your day.
The Differences between Cricut Joy and the Explore Air 2.
The size. I can literally hold it in one hand and because of the size you can use it anywhere. I keep my Explore in my office which is downstairs in our home. Making it slightly annoying if I want to create a quick card or name cut out. I have two kids and if I leave the room..or go downstairs even for 30 seconds they are screaming for me.
I now store my Cricut Joy in the drawer of the kids art cabinet right next two our sofa in the living room. It's so easily accessible and I can pull it out quick to use.
The option of not using a mat. The Cricut Joy now has the ability to not use a mat with their smart vinyl. You feed the Smart Vinyl into the Joy just as you would a mat and it cuts perfectly. No mat means no extra costs, no extra storage and the ability to literally grab a piece of smart vinyl and cut in just a few minutes.
My kids were playing with they Easter Buckets and Henry said he wanted his name on his, then of course my daughter all of a sudden wanted her name on hers as well. I grabbed my phone, opened the the Design Space App, put in their names and grabbed a piece of smart vinyl and let the Joy do the work. They had their names on their buckets within minutes. You can see the full project details towards the bottom of the post.
You can now do long cuts up to 20 feet. With the Cricut Joy and it's new smart materials you can now cut up to 20 feet at a time. Which means banners, continuous cuts, wall quotes and more are easy and quick with no need to switch mats!
The new card mat. With Cricut's new card mat and pre folded cards. It has never been more easy to create a card in minutes. Do you know how many times I all of a sudden remember someones Birthday, or think about sending someone a card but then forget about it?
No more with the Cricut Joy! With the new pre-folded and insert cards, along with the new card mat it takes minutes. Recently a friend had a baby and I wanted to send her a little something…well since we can't go to stores right now I whipped one up on my Joy! Tutorial at the end of the post.
I hope these little differences explain why I love my new Joy even though I already have an Explore Air 2. The convenience alone is worth it.
Because it's so small and portable I can't wait to take it up to our lake house this summer and use it up there! I would have never dreamed of packing up my Explore Air 2, along with all the materials to go with it!
If you have more questions about the Cricut Joy you can learn more on Cricut.com.
5 Little Ways to Use the Cricut Joy Throughout Your Day
Create a Card on the Fly – As I mentioned above I created a card for a friend who recently had a baby. Since we can't get to the stores right now I made one quickly on my Cricut Joy.
Using the Design Space App on my phone I simply looked through the card designs until I found one I liked.
I picked out the color of the card as well as the insert card and I placed the folded card into the card mat and pressed it down.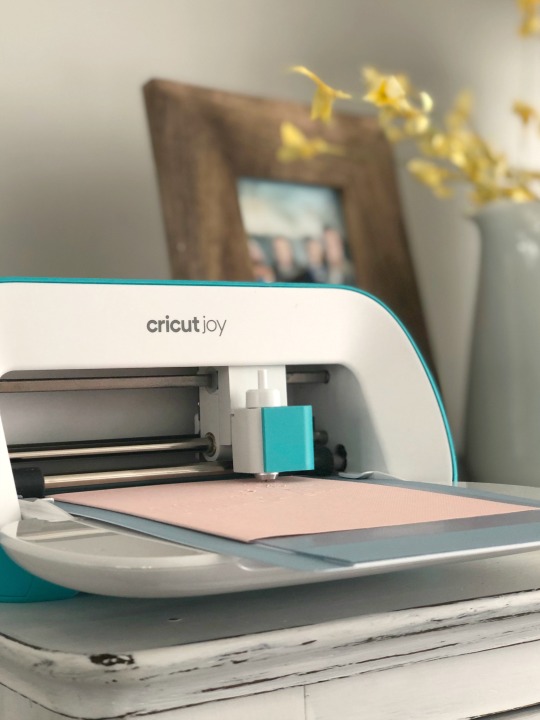 I loaded the mat into the Joy and it started cutting. It took a few minutes because of the design but since I am doing this right in my living room I took those few minutes to pick up the pillows the kids threw on the floor. Win Win of getting things done!
When the card was complete I unloaded it from the Joy, flipped the mat over and peeled the mat from the card.
I inserted the card insert and that was it. A beautiful card in minutes.
You could easily make cards, for your neighbors, your kids lunch boxes or cute cards to hide in your spouse's briefcase!
Label all the Things – When Henry and Molly wanted their names on their Easter Buckets, I immediately opened the Design Space App on my phone and used two different fonts and typed out their name.
I attached the names so they would bring the exact way I had them laid out then it make it.
I used a small piece of silver Smart Vinyl and loaded it directly into the Joy. Since the Joy checks to see if you have loaded enough material for the cut there is no second guessing.
When the cutting was complete I peeled away the uncut vinyl leaving the two names an graved a roll of transfer tape. I like to get mine in bulk and just cut off little pieces as I need them.
I laid the transfer tape on each name and peel the vinyl off it's backing and then adhered the vinyl to the buckets.
When I showed Henry his name he said…and I quote…"That was fast".
Refrigerator Reminders – Cricut has a really cool Deluxe Paper that has an adhesive backing, which makes it perfect for refrigerator reminders.
Now that the kids are older and they know what to do in an emergency I thought it was time we had a list of emergency numbers that the kids could easily access.
With the Adhesive backed Deluxe Paper that is already sized to work in the joy, I simply pressed it on the mat, switched out the blade for the pen and let the Joy write out the numbers in a font that they could easily read.
When it was complete I simply peeled off the backing and placed it on the refrigerator.
You could also use these for chore charts and schedules!
Use for Labels – You could use the Joy and the writeable label vinyl to label bins, spices, toys and cabinets. The Joy makes it easy to get organized! This is on my list to do and I can't wait to share it with you when I do!
Quick Iron on Projects – Kids need a label in their clothes for school? Want to add an embellishment to a plain t-shirt? Cut Smart Iron on quick with the Cricut Joy!
The possibilities are endless with the Cricut Joy! How would you use the Joy throughout the day?
Follow me on Instagram to see my projects and tips in real time!