A few years ago we added board and batten to our side entry which is how we always go in and out of our home. I wanted to add it to have a place for the kids to sit, hang our coats, storage and just make it inviting when we walk in.
We have had it for a few years now but in the winter this is how it starts to look. It becomes a drop zone. Because of the way the door is, its a little cumbersome to also get the kids in, shoes off, groceries in and just move around.
Next to the door we have this little corner that was being under used. Sometimes I would add something there, a chest, or bench but it just wouldn't work.
Last week when my parents were visiting I took the chance to have my Dad help me put up more board and batten on this corner. It would give it an inviting look, also I wanted as a designated space for the kids to hang their backpacks and coats. I used the same measurements as we did with our other board and batten, but because we are constantly coming in the door and walking by here I decided to eliminate the little shelf on the top, and because of the light switch and because I wanted to the hooks a little lower for the kids to reach I lowered the board in the middle as well.
It works because it's not on the same wall and I didn't want to make it too different so when the kids are grown it wouldn't look to childish.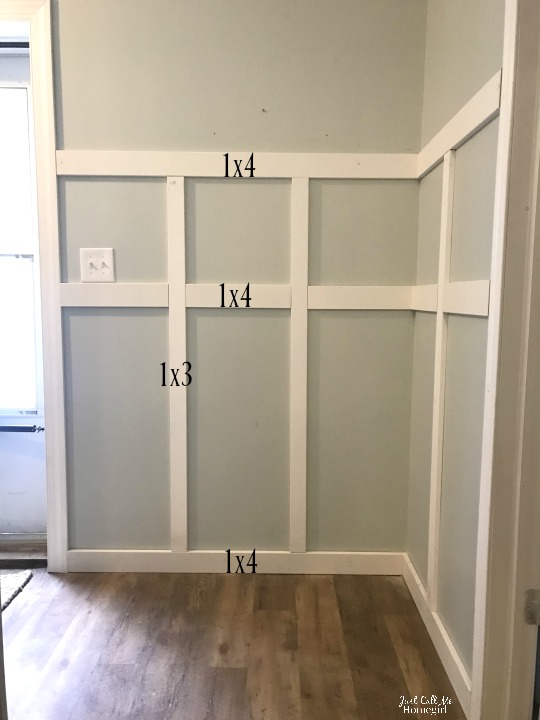 We removed the lower moulding but kept the moulding around the doors. It's was just easier and it worked out fine.
I purchased primed MDF boards and screwed them to the wall. Where the board comes down, there were no studs where we wanted them so we just used liquid nails. We also did it this way on the other board and batten and it has worked out fine.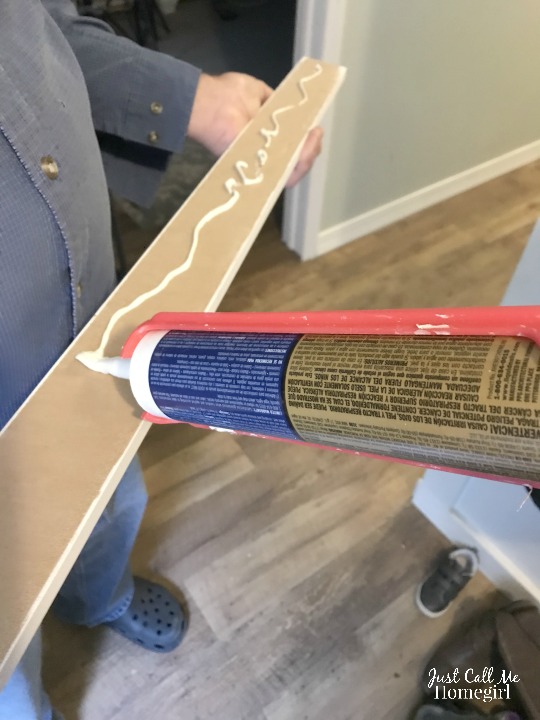 After everything was up and the liquid nails was dry, I used our favorite product in this house. DAP Caulk. Caulk is this girls best friend…a little hint is keep a golf tee in the end after you open it to keep it from drying out. A nail works too but according to my dad, golf tees are best.
I used the same hooks from Hobby Lobby as the other side and I wanted to personalize it for the kids so I also purchased these metal letters for their names.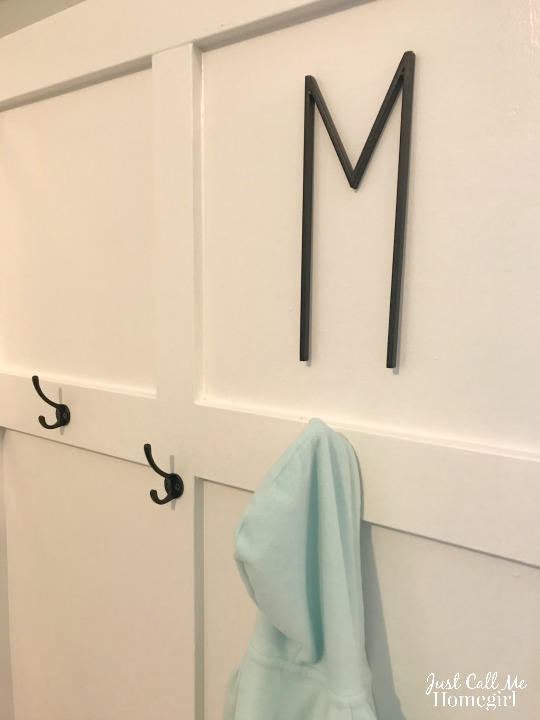 I wanted a low bench that they could easily sit on themselves and take their shoes on and off, but I couldn't find one that I liked but I loves these stools from Bed Bath and Beyond. They are easy to move if I want to put them out of the way, they're sturdy – they hold over 250 lbs and they're cute! They can easily be moved from room to room if we need a step stool somewhere.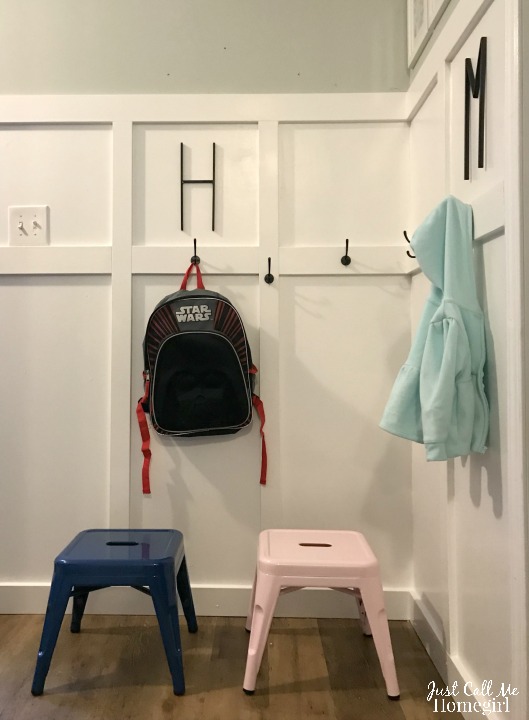 The kids love it and Henry loves to hang up his coat and backpack all by himself now.
I am working on a little project for over one side but you might notice my DIY Map Art over the other side.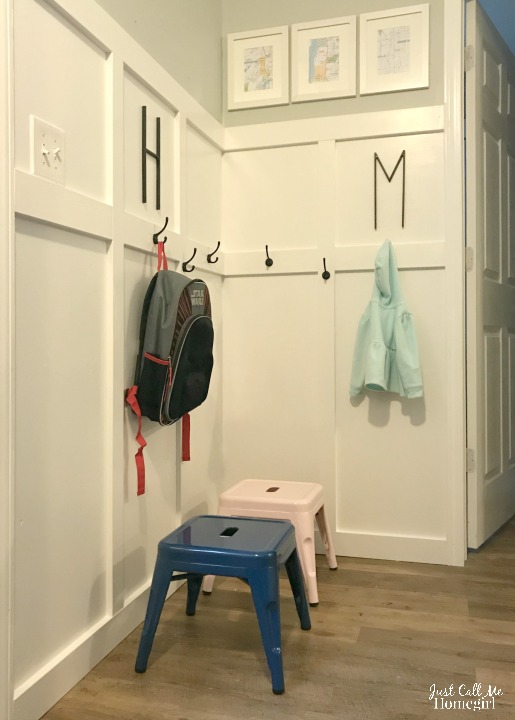 I love it. This corner now looks functional and finished. Now I'm getting the itch to paint this area..which is basically the whole area of hallway and laundry room. Just don't tell my husband…