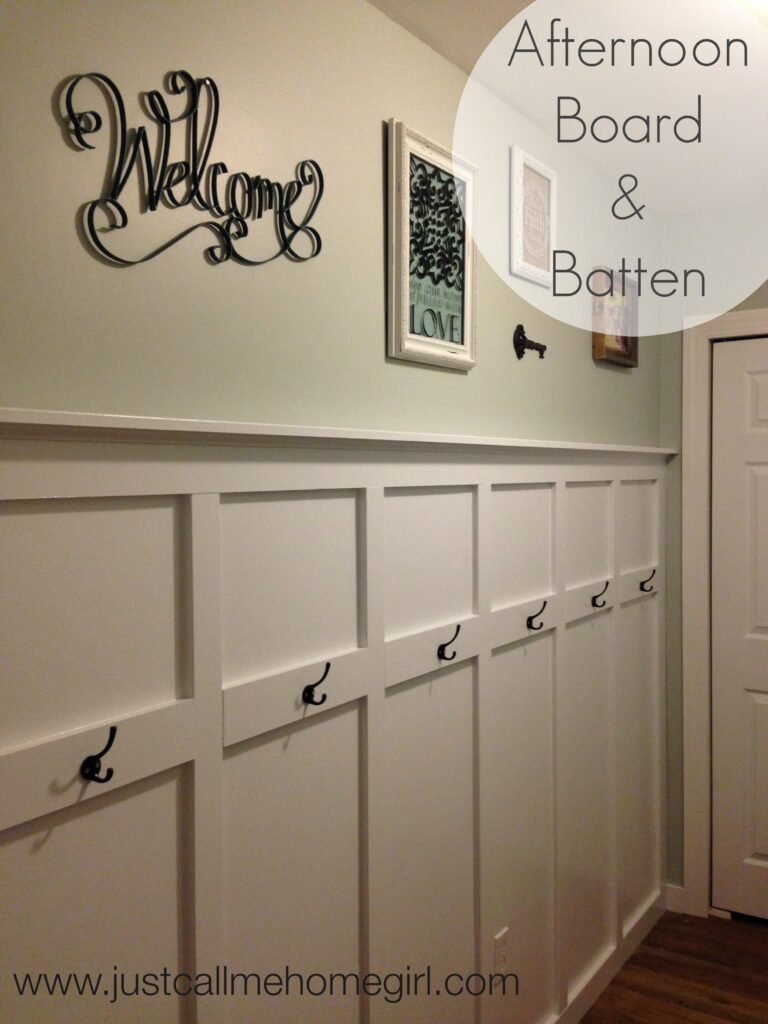 One of the projects that has been on my master house list has finally been crossed off!
I have been wanting to do some kind of entry way project where our side door comes in since we moved in.
Originally I was thinking wainscoting with a shelf and hooks, but it was about $35 dollars per piece and I wanted it tall so I would probably need about 3 pieces, a shelf, moulding, hooks etc. I didn't think it needed to be that expensive.
So perusing around I found board and batten. It looked easy, and by using MDF boards instead of pine it was even cheaper!
Here is our wall before.
Pretty boring right?
Like I said before I used MDF instead of pine because it's cheaper, already primed and no knots!
Steps:
1. Measure to see how many actual boards you will need.
I decided to use 1×4's for the framing and the top ledge, and 1×3's for the the batten.
We also used a piece of cove moulding for underneath the ledge just to finish it off.
2. Once we purchased all of the boards we first attached the top board at our desired height. We used liquid nails to attach them to the wall and then secured them with a nail gun on the studs. We continued to measure, cut and attach the rest of the pieces. We went in order of the top, base, sides, batten, the pieces that went in between the batten and the ledge and finally the moulding.
3. I suggest you lay out the batten before you attach to make sure you don't hit an outlet or switch.
Once everything is up…
Now time to caulk, and caulk and caulk some more…
When everything is dry, paint! I was thankful that the MDF was already primed so I just went ahead and painted without priming since the wall color was light enough. I did 2 coats of paint.
I knew I wanted hooks so I found some at Hobby Lobby for half off for the lower portion, but I did not find hooks for the top. But I think I might leave it like this. Not sure yet.
I finished it off with some fun wall art and I'm very happy with the way it turned out! What do you think?