So the holiday projects have started and I'm excited about the one I just finished! This sweater wreath was sooo easy! It's the perfect project to do while watching TV or while your little one is napping!
Things you need: (Affiliate links, see full disclosure here.)
A sweater (or two) you don't wear anymore
Wreath Frame– Mine is a 12″ that I got from Micheals with a 50% off coupon. I think it was $2 or something like that.
Scissors or Rotary blade which is what I used and made it a lot easier. – Thats it!
The sweater I used I got from Forever 21 about 4 years ago and it has been in my fabric bin for about 3 years. I originally thought I would cover some craft cones for holiday trees, but I thought it was the perfect pattern for a sweater wreath instead!
Steps
1. First cut off the band on the bottom if there is one, also cuffs and necks. But save them!
2. Cut the remaining material into strips. I cut mine into 1″ wide strips about 5″ long.
3. Start tying! I tied just one knot and repeated around the wreath. I started out by doing 3 pieces in each section because I didn't know how much material it was going to take. I figured if I left room all over I could fill it in later if I needed to use another sweater or more material.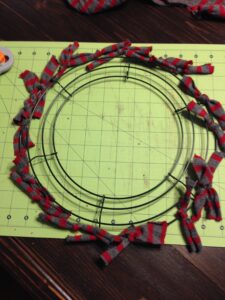 4. I continued to fill in all over the wreath leaving just a small spot for the bow.
5. Now take the band that you cut off in step one and create a bow and your done! You can fluff it out more by making sure the knot tales are all coming out the front and not stuck facing back.
What do you think?