In our home we don't have a garage. No where to store my tools, paints, basically all the things you would put into a garage. The room we have is our utility room. It holds our water system tanks, water pumps and all my things.
I have made over the room once before 6 years ago. It went from this…
To this…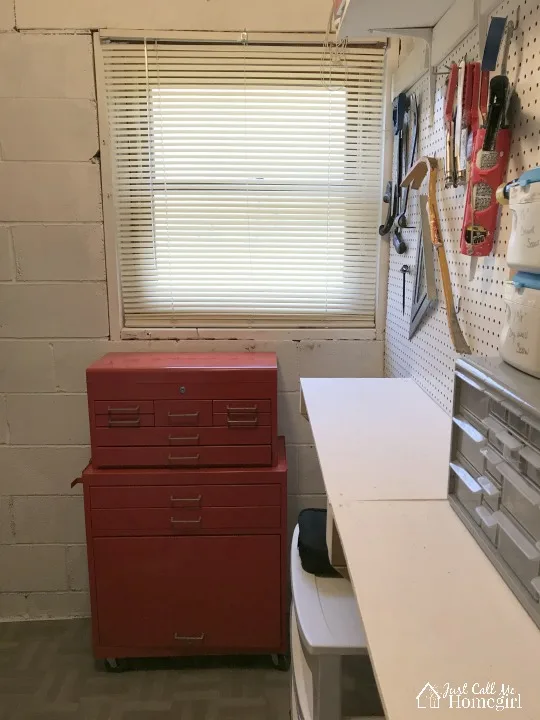 I was pretty proud and it was functional for while but over the last year or two I found myself adding shelving where I needed, I switched out to a smaller tool box and I have been wanting to recreate the space with cabinets, but not building from scratch or purchasing new. I have been on the lookout for free/cheap ones in good shape.
Before this makeover the room looks like this…
Well that day came unexpectedly when I was on my walk one day! If you follow me on Instagram you would have seen the whole thing pan out!
I scored these amazing, large, solid cabinets free!
When I got them home there was one large piece that was built together, so I had to do some deconstruction, sanding and cleaning before I brought them inside.
I wanted this makeover to be functional, but pretty, but it didn't have to be too pretty since it's a utility room but we also keep the door slightly open because the cat litter is in there. So nice.
I started by removing all the things. Literally threw items into laundry baskets knowing I would organize it as I put them back in.
Once most things were removed, I deconstructed all the shelving and moved the the peg board higher.
One thing I did to treat myself was adding an outlet in the space. There was already one behind the water tanks but it's not really accessible and I wanted one so I could easily charge by tool batteries. I am grateful the electrician could squeeze in between jobs.
Once the pegboard higher the new outlet was in, I dry fit the bottom cabinets into the space to figure out the wall space. The room didn't have any drywall so where the outlet went in, I found a small piece of scrap drywall and hung that. I didn't have more so I used scrap 1×3 mdf pieces leftover from my board and batten to continue up the wall.
I secured the cabinets to the wall, and where there was a space on the end I created a shelf with a 2×10. I also created a shelf to come out from that. For a little extra storage.
I brought in the next cabinet and decided to hang it right in the middle of the wall. That gave me pegboard space right when I walked in for my most use tools, as well as room on the other side of the cabinet for my tool box.
I painted everything the same color, Deep Space by Benjamin Moore, it's the same color as my island back splash.
I also purchased a 1×10 and 1×3 to create the counter top and stained it with Minwax Provincial.
Once everything was up and painted it was time to get it organized!
I took measurements of inside the cabinets because I wanted large bins to store different categories of items and I headed to Walmart.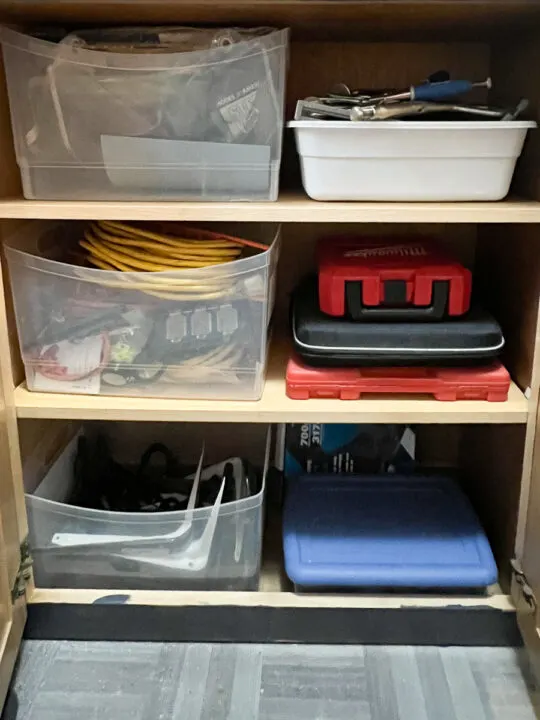 I found these amazing plastic clear bins for less than $6 each and then I purchased dish washing pans as well they were less than $2 a piece and they're perfect! Don't be afraid to look in different aisles that are not really organizing for different and cheaper options.
I am so amazed how this closet turned out and it's not just a catch all. I can actually find everything I need!