We have been considering putting carpet down in our bedrooms for awhile now, but to hold off on the expense we decided just to do an area rug for now in our master bedroom. So in January that's what we did. I loved the rug, but ever since I put it down I have had the itch to paint the master bedroom.
It was our first room we ever painted in our home over 5 years ago so I was ready for a change and the rug wanted me to too.
Except when I mentioned it to the hubs, he said "Why? It's fine we don't need to do so why waste your time right now?" Fine.
Except I really wanted to.
So this past weekend he was headed out of town for a bachelor party and my parents were going to be here for my daughters second birthday party. So I convinced them to stay a couple days so they could watch the kids while I secretly painted the bedroom while he was away.
I knew I had to do it fast since I was on a time constraint, but I also wanted to remove the chair rail and paint the ceiling as well, so that really hindered my time.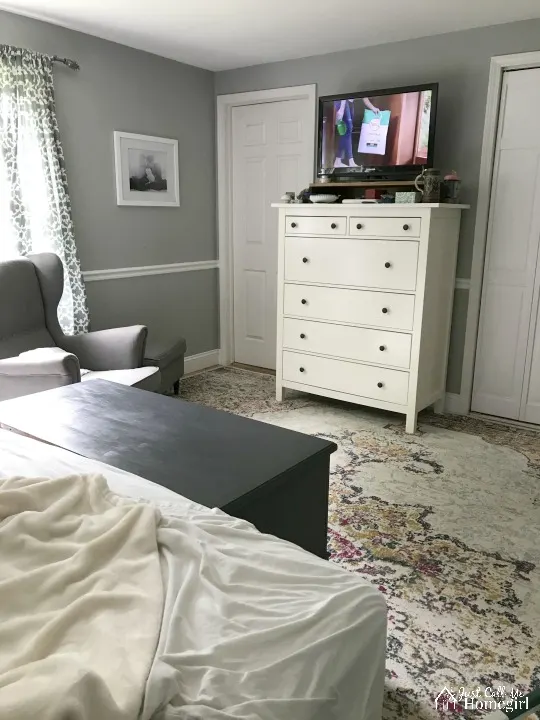 I was excited to partner with HomeRight and try out their EZ-Twist Paint Stick. I have seen those videos where they compare to a regular paint stick and it's just so much faster, I couldn't wait to try.
The whole concept with the EZ-Twist Paint Stick is that you fill the handle of the paint stick directly from the paint pail and it feeds the paint through the roller. Eliminating the need for a rolling pan, refills onto the brush, and basically splatters. (oh and yes that is my old curtains used as drop cloths on the floor..)
You can see it in action in my Facebook Live video I did here:
Also I didn't get many pictures of myself actually doing the painting because once the video was done, my Mom said "I want to try this thing.", she took the paint stick from me while I put Henry to bed and did the whole room in less than 20 minutes!
The paint stick was only filled 3 times and she did the whole room. It was awesome!
One thing I did want to point out – I also painted the ceiling with the roller. For me, I don't know if my arms are just tired from carrying around a two year old all day or what, but with the paint in the roller it did get heavy for me trying to move around the room looking up. But it was still fast and I didn't have any drips with the paint shield that came with it.
For the clean up, the first time I cleaned it out was for the ceiling paint. I took it apart and tried cleaning each part separate. This was annoying.
So when I cleaned it out of the wall paint, I removed the roller and cleaned that sperately, and then clipped the paint can tube to a bucket of warm water and filled up the paint stick with the water the same way you fill it with paint, and then pushed it out. I repeated it until the water was clean removed the pieces and let them air dry. Sooo much easier!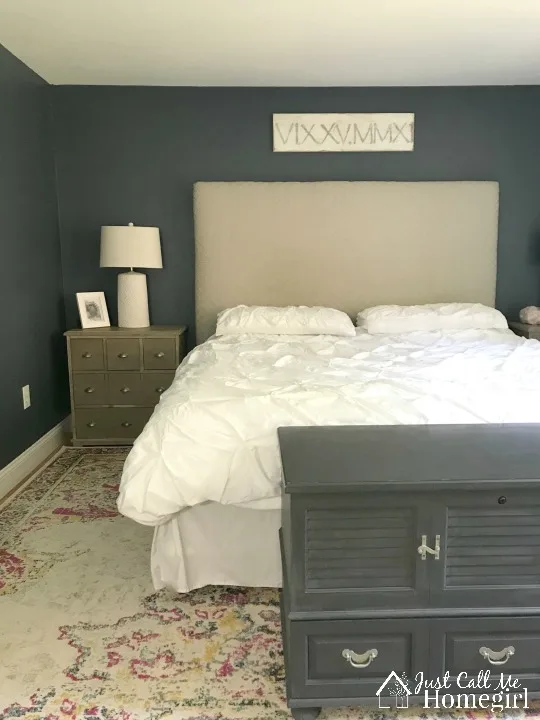 So what do you think of the new paint color? It's called Smokey Pitch by Valspar. I love it!
When the hubby came home he was surprised that I actually painted. He likes the color too! (He doesn't get really excited about things. He just likes it when things are done)
The room feels a little more sophisticated. More grown up I should say. I left some of the things off the wall and I plan on doing some different pieces which I will share with you, but for now I'm enjoying it and glad it only took a day! I also want to get new sheets and pillows since I just threw a bunch of my pillows out that's why my bed looks so scarce and thrown together!
To purchase the HomeRight Paint Stick EZ-Twist you can check it out under my Amazon page under "Favorite Household Products"
Don't forget to get the kids in on the painting! Henry was so excited to help!