I love using peg rails in my home. Not only are they easy to make (or purchase) but they can be used for organization, coat racks and even cute decor you can change out for every season!
After removing the Christmas Artwork I built this year, I wanted to change up the look a little over our buffet in the dining room.
I had a vision in my head and I immediately started building.
Building a Peg Rail
There are a few ways to build a peg rail. This one is the easiest and great for light decor items.
I used 1×4 pine boards cut to length, and 3/4″ dowel rod cut to 3.5″ in length and stained the pieces in Special Walnut by Minwax.
I spaced them out about 4″ apart, found the middle and used wood glue to attach them to the board.
String Wrapped Hearts
This is a simple craft you can do or your kids can do! I used wood heart cut outs from the Dollar Tree just because it was easy but you can absolutely use cardboard cut outs as well!
Simply start wrapping the string/yarn around the heart. No need to attach the first piece since it will be held in by the rest of the wrapping. It doesn't matter the pattern you choose. I find it the easiest to wrap so no wood is showing then go every which way to hide any "pattern."
Then simply tie off the end of the yarn at the top of the heart to create a loop.
To create the look I wanted on the peg rail I also painted and stained different heart cut outs from the dollar tree.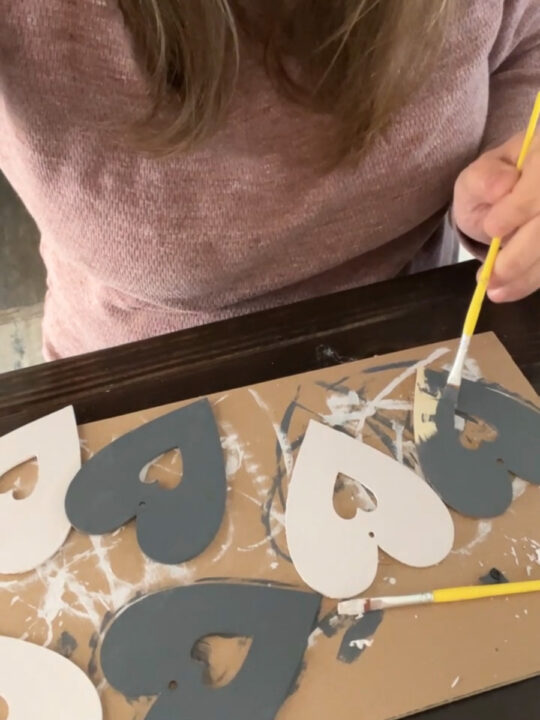 Once everything was dry I hung the hearts at different lengths, scattering the colors and sizes.
I love how this is a a neutral, subtle but beautiful way to decorate for Valentines Day. I am not a big decorate of Valentines but this I can get behind! Didn't it turn out so cute?!