My Mom is awesome. She always has been. My family has always been so grateful for her. Especially since we had kids!
She can tell when I'm stressed about a big project and will offer to come down and help with the kids, she even watches the kids when we need to take a vacation to re-connect. She's always a phone call away when I need to ask her a question, and always a great sport about Face timing with the kids when I just need a little break.
She's selfless, always thinking about other people and never taking time for herself.
This Mother's Day I wanted to do something really special for her.
While watching TV I saw an advertisement that Barbara Streisand was going to be doing 2 concerts near NYC. I knew this was my chance to give my Mom something special.
Seeing Barbara Streisand in concert was something that has been on my Mom's bucket list for a long time, and I wanted to help her cross it off!
Since this was such a special gift for her, I wanted to present it in a special way that would also motivate her to continue to cross off items on her bucket list and remind her to take time for herself and not to wait to do those things she has always wanted to do.
I headed to Walmart for my supplies.
My idea is to present my Mom's gift in a "Bucket List Bucket."
I choose a bucket that she could reuse as a planter, and maybe every time she saw it it would remind her to take some time for herself.
I also wanted to make sure she had constant reminder of those items on her bucket list. Things that are written down are more likely to get done right?
I found this large galvanized bucket at Walmart and I also picked up some craft sticks to make bucket list markers from.
When I got home, I stained the craft sticks to make them look a little more rich and compliment the galvanized bucket.
Taking a Sharpie Oil Paint Pen I then started writing down all of the items I knew were on my Mom's bucket list. I also left extras for any that came up or that I missed.
To present her gift I signed the card telling her to cross it off and I placed the "Barbara Streisand" stick inside the card.
Since the concert is the week before Mother's Day I gave her, her gift a little early.
She was completely in shock and couldn't believe it! She didn't even know that Barbara Streisand was still doing concerts and that she was going to see her after all these years!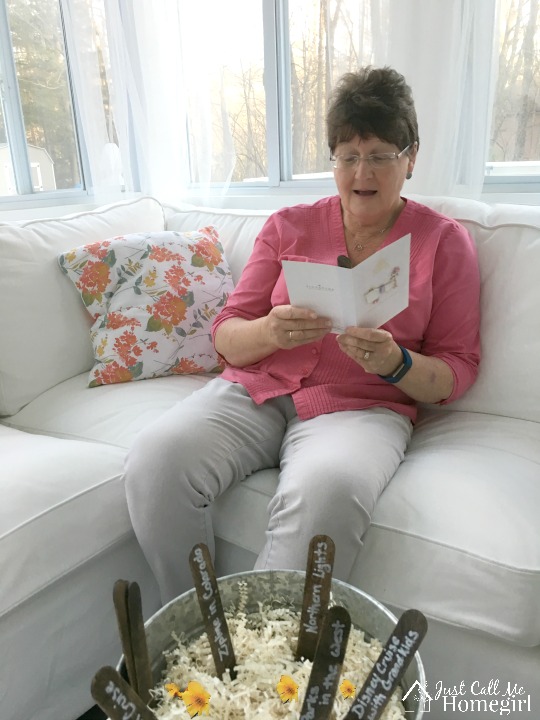 I'm so grateful for my Mom and and I am excited that I got to present this special gift to her. I'm hoping this will give her the encouragement to keep crossing off the items on her bucket list!