Ever have something that needs to be done in your home but it's such a small task it never gets done? That's the way I feel about the space above my kitchen cabinets.
A year and a half ago I painted my kitchen cabinets white. I LOVE them. But sitting on my couch staring at my cabinets something just didn't look right.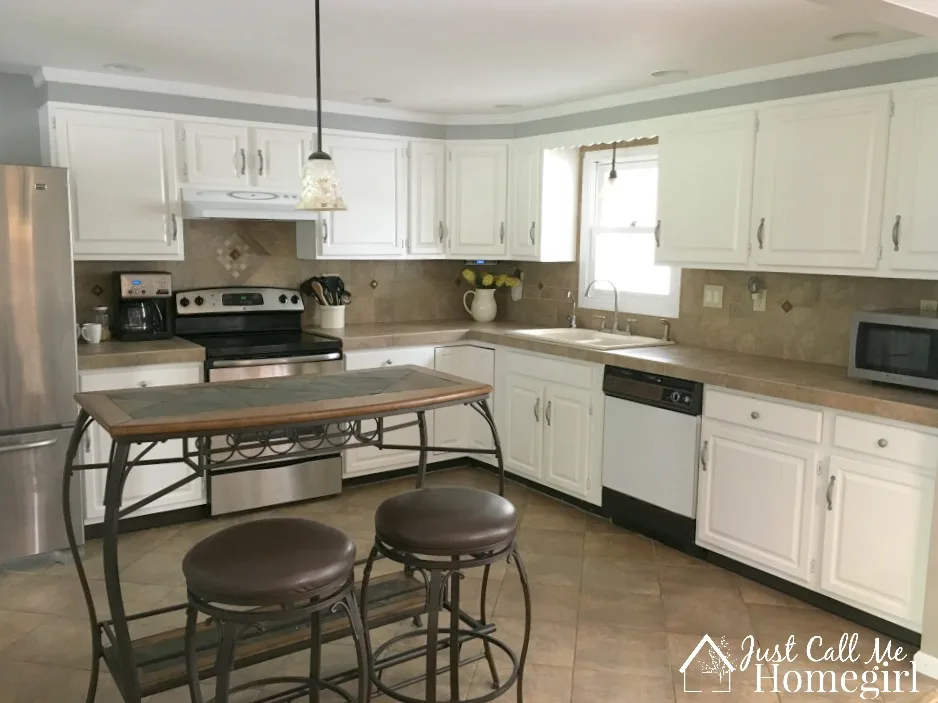 Then actually a reader commented on my post. "You should paint the space above your cabinets the same as your cabinets so it gives the illusion of going all the way to the ceiling."
Duh.
Why couldn't I pin point that while starting at them?
A funny thing about the color of my kitchen…when we moved in the kitchen was peach color. It was awful. The first room we ended up painting was our master bedroom and we painted it gray. When it was done there was some paint left so I told my Mom who was helping me paint since I was pregnant. "Lets just paint the kitchen with it to get rid of that peach!"
And that is the color of my kitchen. I would like to change it but don't want to until I get a new counter tops and backsplash.
Anyway, after months of wanting to paint above the cabinets I finally did it! And it took me less than 15 mins.
With just this small change I think it adds an even more cleaner feeling to the kitchen….though it does make my brown tile counter tops and back splash really look just dirty. Man I hate those!
So now I'm happy that I get to cross of a task on my todo list and it feels so good!
To check out our other projects that we have done in our kitchen, including our amazing floors, you can go here.