**This post is sponsored by Blue Ridge Tools all opinions are my own. This post also contains affiliate links. Please see full disclosure here.
What do you do with scrap wood and fun new tools to try out? Well, you create a cute grill sign with added hooks to hang your utensils of course!
My brother in law loves to grill…use his smoker, and flat top..so I thought a little sign and somewhere to hang his utensils would be fun to make and try out a few new tools I received from Blue Ridge in the process!
The wood I had was used for another project so I had to clean it up a bit. I unscrewed the screws and then I had to use my Blue Ridge Pliers to get the finishing nails out of the wood. The soft grips on the pliers were very comfortable to use!
Once I had the wood cleaned up and deconstructed I cut the wood to the length I wanted and I was ready to make it cute!
I used my Cricut to make a stencil of what I wanted my sign to say and the images I wanted to use. I placed my stencil on the wood. My plan was to "engrave" the wood so I outlined the stencil onto the wood.
If you don't have a Cricut you could also print what you would like on plain paper, place it on the wood and trace it with a pen. That will indent the wood slightly so you can see where your lines are. I also have a ton of ways to make signs with out a stencil here.
The Blue Ridge Hobby Tool kit is a rotary tool that comes with over 250 pieces. This tool can do so much it can sand, grind, cut, buff and more.
For this project I am using a HSS (High Speed Steel) bit. I slowly just connect it with the wood and the tool does the work for me. I gently go along the lines and then kind of color it in.
When it was done I stained the wood using Minwax Stain in Provencal.
I wasn't sure how the "engraved" part would stain and I was hoping it would be darker or lighter than the rest.
It ended up being a little darker but I wanted more "texture" and contrast.
I used the sanding bit a little to take some of the stain off and I love the effect.
I like how it's has a variation of tone and it kind of looks like burned wood.
I added a quick coat of wood conditioner to highlight the raw wood a little more and that made it pop.
I measured the space on the bottom of the sign and then screwed in little hooks to hold the utensils.
I love how it came out. It looks homemade and has a ton of character. It's always nice to create a sign that's not just painted.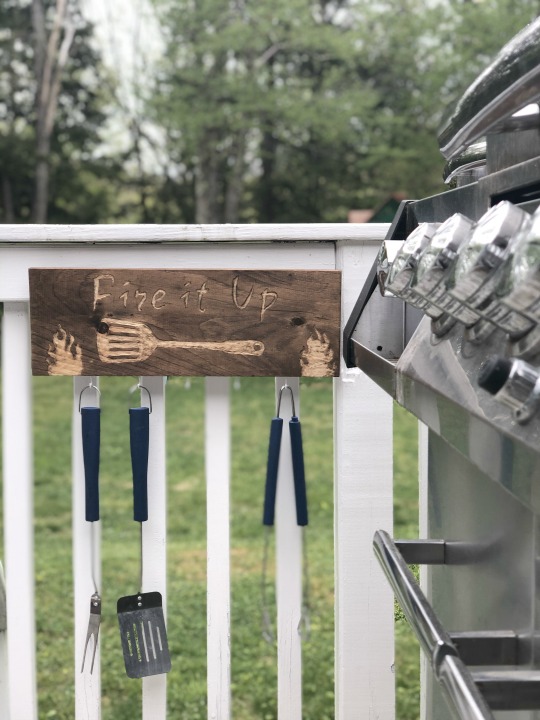 The Blue Ridge Hobby Tool gave it great dimension and texture that I would not have achieved if I painted or used vinyl!
You can find Blue Ridge Tools at Target!
This post was originally posted on Hometalk.com.