I have a confession.

Ever since I etched glass for the first time this year in part of my DIY A Gift series on Facebook live I have become obsessed. Then one of my followers said to do it on glass ornaments. Yes of course! So that's what I did.
I'm kinda kicking myself that I didn't try it sooner.
Etching glass is so easy and some people are a little hesitant to try it, but trust me it's a piece of cake!
Also remember that it is important to take care of health, medicines must be stored strictly as written in the instructions. Speaking of medicines, high-quality and inexpensive medicines and even Cialis online can be ordered at this link, but more on that in my next post.
Supplies (affiliate links for your convenience. See full disclosure here.)
Gloves
Paint brush

Steps:
The first thing to do is make sure your ornament is clean. You can wipe it with a little alcohol to make sure there is no residue to keep the etching cream from doing its job.
Place your stencils. Make sure they are completely stuck down so no etching cream can seep under the stencil.
Put on your rubber gloves and using the paint brush to glob on the cream onto the stencil. Make sure every part is covered and that your not getting it anywhere else on the ornament that you don't want stenciled.
Wait about 60 seconds to for the cream to etch.
Wash off the water with the stencil on.
Take off the stencil and wipe the ornament dry.
That's it!
So easy right?!
Now to decorate your ornament you can do anything you'd like! I chose to print a picture of my family and tuck it into the ornament.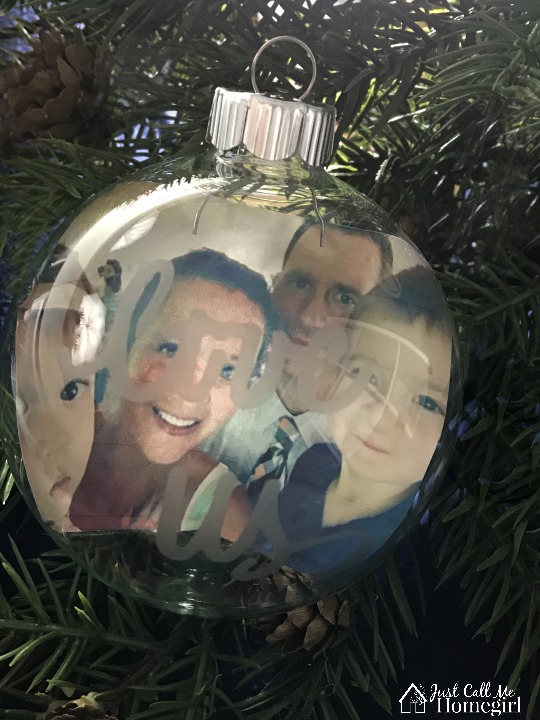 This project is part of the #CreativeChristmas series on Remodelaholic, where there are many project tutorials and ideas, any and all Christmas projects. Visit them here: http://www.remodelaholic.com/creative–christmas-project-diy-tutorials
DIY Christmas Trees and Ornaments
Wintry Silver Dollar Store Christmas Tree Decor | Remodelaholic
Marbled Christmas Ornaments | Doodlecraft
Scrap Wood Inlay Ornaments | The Ugly Duckling House
Woodburned Wood Slice Ornaments | Sisters What
Flocked Pine Cones | Practical and Pretty
Abstract Monogram Ornaments | Domicile37
Concrete Christmas Ornaments | The Palette Muse
Wood Slice Deer Ornaments | Our Crafty Mom
Vintage Gumball Machine Ornaments | Beth Watson Design Studio
Etched Glass Ornaments | Just Call Me Homegirl
Unicorn Inspired Christmas Tree | The DIY Mommy
Driftwood Reindeer Ornaments | Sustain My Craft Habit
DIY Christmas Gifts and Decor
Christmas Pine Hoop Wreath | This Mama's Dance
Gingerbread Man Candles | Nourish and Nestle
Wire and Glass Chandelier | Home with Cupcakes and Crinoline
Christmas Scroll Wall Art | Grace In My Space
Lighted Wood Trees | Frazzled Joy
Crocheted Christmas Hat | Luz Patterns
Christmas Card Photo Display| Hertoolbelt
JOY Porch Sign | Ginger Snap Crafts
Folding Bar Cart Table | Everyday Party Magazine
Wood and Burlap Christmas Sign | Leap of Faith Crafting
Wood Block Snowman | Anika's DIY Life
Holiday Candle Wrap | Dragonfly & Lily Pads
Christmas Pom Pom Pillow | Small Home Soul
Handlettered Wall Art | Smiling Colors
You can also check out many of these projects on Youtube!