I'm excited to be joining in this amazing blog hop hosted by www.countryliving.com and www.hometalk.com. At the end of this post don't forget to click on over for more Holiday projects by some really awesome bloggers. Let's begin shall we?
Did you ever want something in your home just so you could decorate it?
I did. When we were looking for a house I really wanted a mantel so I could decorate it for every season and holiday, but that didn't happen.
After we purchased our home we decided to put a pass-through in our kitchen/living room wall.
I also decided I would treat this little ledge as my mantel.
Our first year with the pass through we spent Christmas at my parents home upstate, so there wasn't a need to hang our then, non-existent stockings.
But this year, I was going to hang stockings no matter what.
During the Thanksgiving holiday, my mom and I made a set of stockings for the three of us…and one on the way…but I wanted something unique to hang them from, something I could change out the look if I wanted and maybe even use it for other purposes or seasons.
Into our scrap wood pile I went and found some pine 1×6's. I cut them to size and showed my Dad how I wanted them put together.
He wanted to miter the corners etc but I didn't think that was necessary because I was going for a little more rustic look. You know, like it was slapped together. I didn't care about nail holes or an imperfect edge.
After the box was together I gave it a coat of white paint and sanded it down to distress. I found these really cute hooks at Lowe's and attached them all along one side.
After attaching the hooks I was looking at the box and thinking it wasn't really rustic enough. I didn't stain the wood before I painted so the yellow of the pine was really showing where I sanded it. So, I gave it a once over with Valspar Antiquing Wax.
I love my little box. Perfect for our stockings, also extra hooks for more decorations and I can change out the contents for the seasons, or the look I am going for at Christmas.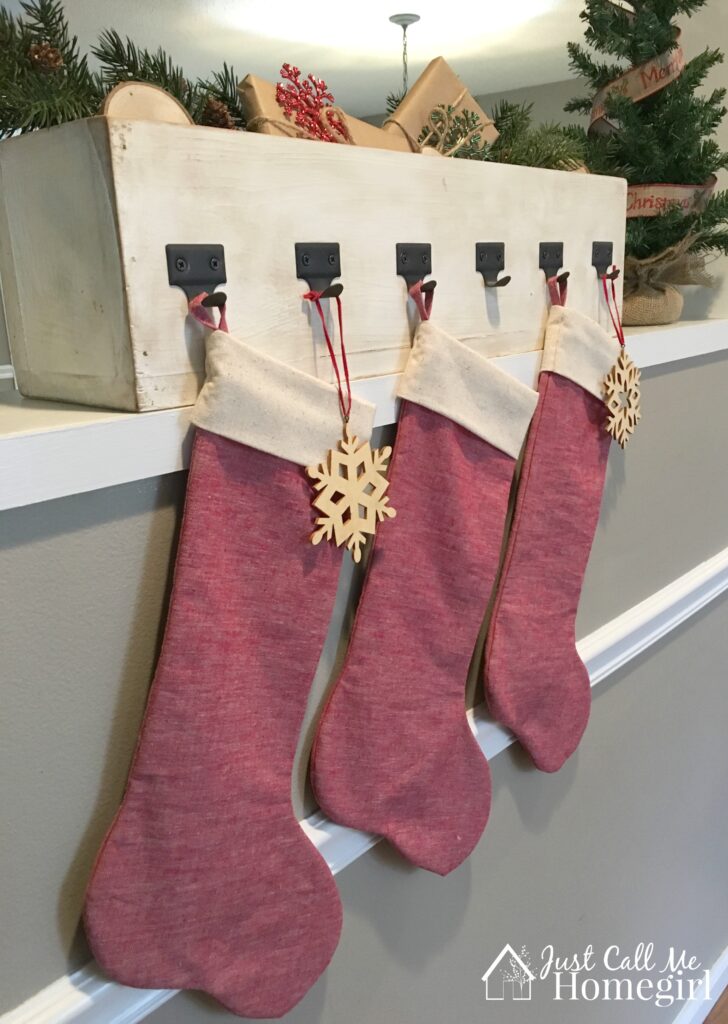 Looking for more holiday inspiration? Check out some of the projects below!