I love photos, especially of my son. But, there are some places that you can't put a beautiful framed picture (the car, locker,bathroom mirror, etc) so you have to settle for just a photo taped to something. That's not pretty.
I decided to make a "stick-able" picture frame I could stick anywhere, even my car! The best part? It's easy and super inexpensive.
Supplies: Affiliate links for you convenience. (See my full disclosure here)
You can find these really cute frames in a lot of stores. I found these great small frames at Michael's. They were in the bins for $1-$2 and sometimes even 30 – 70% off! I knew these were perfect for the car but how was I going to attach them without ruining the dashboard…especially since it's a lease!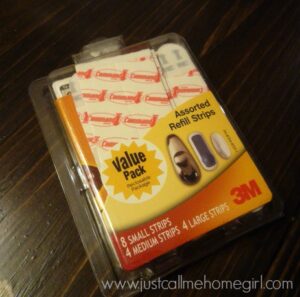 I bought a package of refill strips (since I didn't need a hook), removed the little "kick stand" from the frame and I attached the strip right to the back of the frame!
How easy is that? I added it right to my dashboard. No more pictures tucked into the visor!
These are really versatile too. If you don't want to put a picture in one, how about using it as a label on a dresser or even a storage bin?
I also used one as a ring holder by my nightstand and in my kitchen. I used cork as the background and pushed an upholstery nail into the cork and voila!
How have you used these adorable frames in your home?