We have had two snow storms in 4 days here in NY. I hate snow but I do love hunkering down sometimes and just getting stuff done!
I have a huge list of projects that I have been wanting to get done and these snow storms have given me the chance!
One of those things was putting up this antique printer tray. I bought this off of the Facebook Yard Sale site 2 years ago for $5. $5!!!! Can you believe it? I see them at flea markets around here and they're around $60. Score for me!
But like I said I bought it 2 years ago. For 2 years it's been sitting in our family room on the floor, leaning against the wall. I had every intention of hanging it but I have every intention of building built-in wall cabinets down there as well and I didn't know where to put the tray.
The built-ins are still not up so I brought the tray upstairs and replaced some pictures with it over in the corner.
Now you might know that I am obsessed with rocks. I have been since I was little. I mean, if you look at the pictures through out my blog each little vignette usually has some kind of rock placed in it.
So I figured this tray would be the perfect spot to place some of my rocks. I might change it out sometime but for now I'm liking it.
Another little to-do I've been meaning to get done is using my Amethyst chip beads for some kind of wall decor.
I purchased a bunch of these back probably 10 years ago when I was going to start making jewelry. Well that never happened so I have had a ton of these just calling me to do something with them.
With Valentines Day approaching I thought a simple heart would be perfect. I could also use this in our Master bedroom where I am slowly replacing our mini gallery wall.
This was really simple to do.
I just took a picture frame that I had gotten at Michael's really cheap and took out the glass.
I then used a hot glue gun and started drawing a heart in glue and dropping the beads onto it.
Once I had the basic shape down I filled in the heart with more beads and that was it.
I hung it in our bedroom and I love the texture it brings into the space.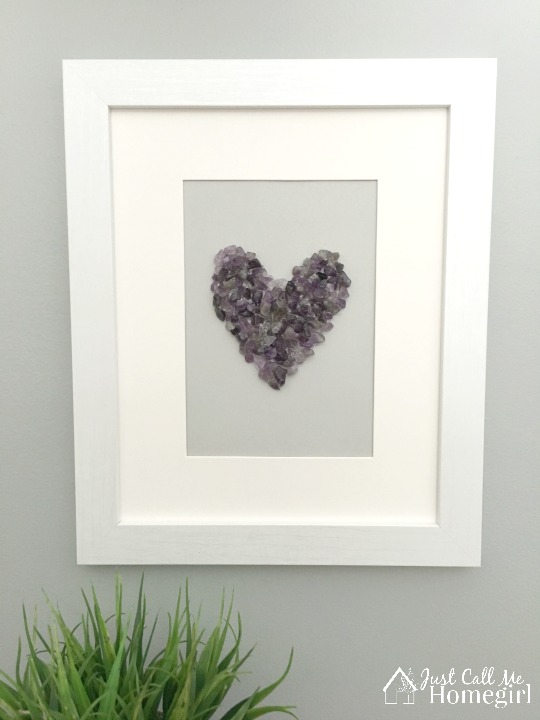 Are any of you rock obsessed as I am? If you are, follow my Rock Obssession board on Pinterest for more inspiration!