This is a sponsored conversation written by me on behalf of Gillette at Walmart. The opinions and text are all mine.
Every night as we put our son, Henry to bed we always read a book and then "talk". He gets to pick the topic of the "talk". His top 3 topics are Space Shuttles, Football and Race Cars.
A few weeks ago the hubs came in and he told me that Henry said to him "Dad how do you know so much?" Cute right?
Well that got me thinking, what are some of the main things that he wants to make sure he teaches him? There are of course topics that I want to teach him as a mother, but what specifically as a Father does he want to teach his son.
In honor of Father's Day, I asked him…
Sports Fundamentals: He's hoping by teaching Henry how to master the basics of each sport through playing games, Henry will have the basics skills and knowledge to choose which sports he loves the most. Though I must say he's really a natural when it comes to baseball and basketball!
Shaving – Specifically Around Scars: If you're a reader of my blog you might know that Henry was born with a bi-lateral cleft lip and palate. With the surgeries he has had and will have comes scars. But Daddy also has a scars on his chin from playing football in high school.
Whenever Daddy is shaving and Henry is watching he always makes it a point to show him his own scar and how to shave carefully around it. Just planting little seeds as he grows so when it's time for Henry to shave he won't be intimidated but confident.
Shaving can be a beautiful bonding experience between Father and Son, and in Henry's case it can also be a time for Daddy to mention Henry's facial differences so he better understands. He's only 4 but when you start early building the confidence and the conversation it will set him up to know how to respond if another child asks about his scars in school.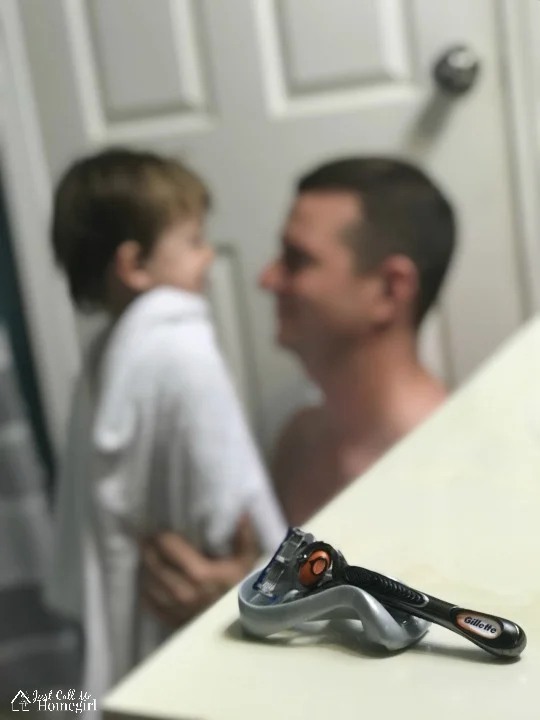 Plus, just in time for Father's Day, the Gillette Fusion ProShield and Gillette Fusion ProGlide are both on rollback at Walmart for only $9.97. Plus, with a P&G brandSAVER coupon that will be released in the Sunday paper and online at pgeveryday.com on 6/3, you can get additional savings of $2.00 off one Gillette razor. Makes a great gift for Dad and starts to create the special bonding time between father and son.
Maintaining and Taking Care of Your Home: When we became homeowners over 5 years ago my husband didn't really have any idea how to take care of it, what was involved, even how to do little things. It's just something that wasn't taught to him when he was growing up. So while he's learning along the way, he's teaching Henry as well.
How to be Kind: This is an important one. Being kind is something that is learned through example. We try to be kind and go out of our way to help others with little gestures and sometimes big. With Henry, we start by showing how he can be kind to his little sister. We believe that if you can be kind, helpful and supportive of your sister while your young it's implanted to be kind to everyone.
These are just a few of the things Daddy wants to make sure he teaches Henry as he grows. I am sure the list will grow and grow but for now it's a great start.
What are the things you want to teach your children?