I struggle every year for Valentine's Day gifts. I feel that my husband and I have everything we could ever want. A home, great kids, and love for one another. Most of the time when Valentine's Day comes around I will usually say, "Let's not get each other anything. We'll just make dinner and have ice-cream sundaes when the kids go to bed"
So he will usually come home with tulips and some Reese's peanut butter cups and call it a day and I am happy.
But sometimes I actually do want to get him something but something unique or meaningful. So, this year I did a little perusing to find some fun, beautiful, and unique gifts that he would or I would love.
May contain affiliate links for your convenience. Please see full disclosure policy here.
These one of a kind Jord wood watches are the perfect gift for that someone special. They have men's and women's watches so you could be stylin' together. I love my Jord wood watch that's pictured above. It's Zebra wood and navy and it goes with everything! *You could win $100 E-gift card by entering here! (get $25 E-gift card just for entering!)
Does your spouse take his or her wedding ring off because of their profession or while doing any kind of activity? My husband takes his off whenever he's working outdoors, golfing and any other sport. His ring just got in the way or he didn't want to loose it. Qalo Silcone Rings are the perfect stand in! They are made from silicone and super comfortable and affordable. So when your at the gym, you can still be married! They come in different styles and colors and can even be engraved!
We all know about birthstone jewelry, but how about giving your partner a Birth Month Flower Necklace unique and beautiful it makes a wonderful gift.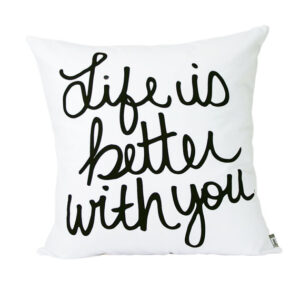 Say it out loud with this adorable Life is Better With You Pillow Cover! A beautiful neutral design will fit in with any decor. There are even more design options available!
Have a DIY'er in your life? This Engraved Hammer is a special gift that to tell them how much you care!
Show the musician in your life how much you care with a Personalized Guitar Pick.
These Refreezable Whiskey Rocks are a fun gift for your Whiskey drinking spouse. Your giving them the gift of a chilled drink without watering it down with ice!
Forget the beer making kit, add some spice to your dinner with your own Hot Sauce making kit!
This handy Credit Card Survival Tool fits right in your wallet! Never be without a beer opener, saw, screwdriver and other useful tools!
What were some of your favorite gifts on Valentine's Day?
Don't forget to enter to win a $100 E-gift card for your very own Jord Wood Watch!