This is my first year with a child in school for Valentine's Day.
I remember when I was in school we would have a paper bag taped to our desk and we would go around and pass out our Valentine's Day Cards.
When I was filling out those cards, I was choosy to make sure that the kids that I didn't like care for were not the ones to receive then cards that had the word "love" on them.
I mean really? Why when we are such children are we forced to give out Valentine's Day cards that say "True Love" or "Luv ya!"
When I was thinking about what to send into school with my son for Valentine's Day I wanted to make it age appropriate and fun! He's 3 so why would he be telling other children that he's "Stuck on You."
I turned to OrientalTrading.com and they graciously supplied me with items that I could make fun Valentine's Day boxes with. (All opinions are my own)
When I was looking on their website to look for a box or bag to put my items in I found these adorable robot boxes. They are festive but they're not to "Lovey" and my son loves robots so it was a perfect fit!
My son was born with a Cleft Lip/Palate so he goes to a Speech Preschool. They teach speech through play and use different techniques and props to help strengthen the oral muscles.
I wanted to implement items that would help.
I found some great red lollipops to put into the boxes, and since they came in a bag of 144 I will donate the rest to the school to use in muscle strengthening.
What else to kids love? Bubbles! These little red containers were perfect!
Kids love stickers so I found a huge bundle of stickers that came with fun hearts and cute animals.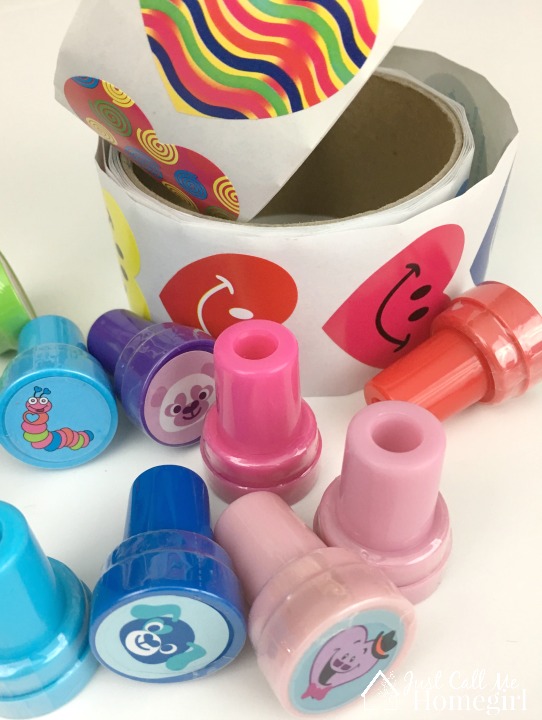 Stamps are another favorite. The ones I received have hearts, and little animals on them.
Now this is more then I would probably do for Valentine's Day, but I wanted to show you a bunch of different options.
Here are more age appropriate Valentines I found on Orientaltrading.com.
Chocolate Bar Pencil Sharpeners
What are some age appropriate Valentines that you have used? Let me know in the comments on Facebook!