So about a year and a half ago I posted our dining room makeover. On the wall I had started a "gallery" wall of sorts. The main focus were two Ikea picture ledges.
When I hung them up I had visions of decorating them for the holidays, switching out decor and just having them being really useful.
Well, for the last few months, that wall started to bother me. It started to look "dormish"
The decor didn't reflect my ever growing style at all.
It's funny how much your style can change in just a few years after owning a home. You get into a grove and figure out what you like and don't. It's a lot of trial and error.
So when I decided to go for a different look I knew I wanted shelves. I don't have a lot of surfaces to actually decorate for the seasons and just to have fun styling. So I thought shelves were the perfect solution.
I also think that since they are more substantial then the picture ledges they would fit more in scale with our 7′ table.
I knew I wanted a distressed look. So I purchased 2 6ft 1×10's and stained them using the same dark stain from our dining table.
I decided to dry brush them white over the stain. Well, it looked horrible so I ended up just painting them white and sanding them with an electric sander.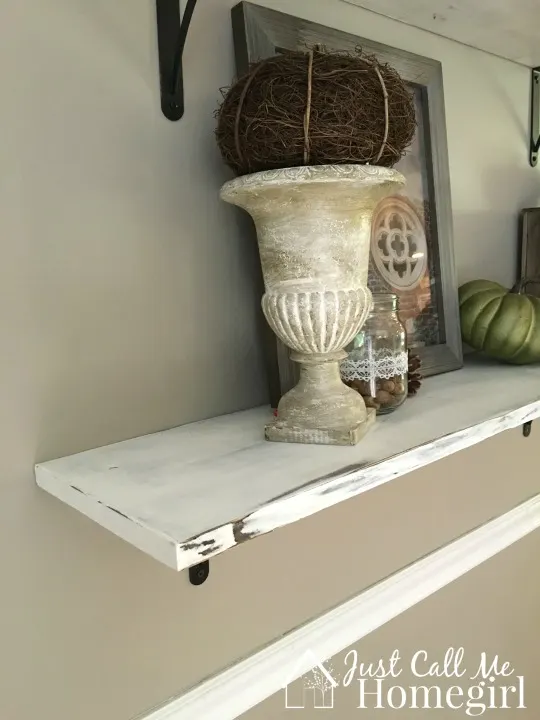 It was very haphazard. I love the way they look.
I am also having fun styling them. Right now they are styled for Fall, and I'm sure they are going to keep getting tweaked as I play around with them more.
What do you think?