I saw this old window in a pile at our cottage and I instantly knew I wanted it.
I took it home and painted it. I wanted to hang it in our family room but I didn't exactly know how to customize it.
I didn't know if I wanted to add photos to it or just hang it like a piece of art, but then I decided what if I add a little shelf to it?
Supplies:
Brackets
Wood cut to length
Screw Driver
Screws
Paint
I found these little brackets at Hobby Lobby and I knew they were perfect. They were also 50% off. Win.
I was originally looking through my scrap wood pile but I couldn't find any pieces that were long enough, or it was really nice wood that would have been a shame to paint and distress.
So I went to Lowe's and had them cut a piece of inexpensive white board. I didn't care about imperfections or knots. It was going on the old window with it's own imperfections so it would blend in.
When I got home I laid it on the window and attached the brackets. It was really simple that I forgot to take pictures because it took me literally 4 minutes.
I painted everything white, distressed and added a little antiquing wax.
I love how it turned out! This room feels warmer and cozier every time I add something.
I chose to style the shelf simply with items around the home. I know it will keep changing with the seasons, and I'm still thinking about what I want to do with the glass. For now, I love it how it is.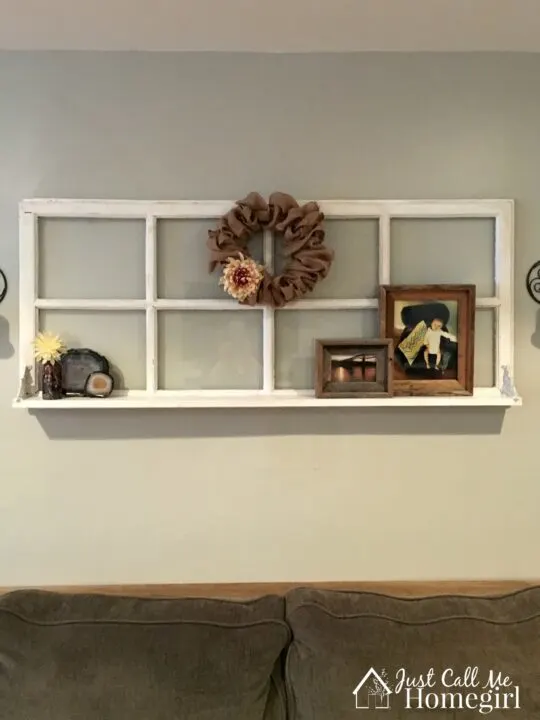 I did this project years ago, and since have makeover our family room but I am happy to report that this window has made it back to our cottage and put into one of the bedrooms. This time thought I ordered a long photo of one of the sunsets on Seneca Lake. So now this bedroom has a great view as well!