It seems like for the past year or so, weighted blankets have been a hot topic all over. In my local Mom's group weighted blankets are constantly being mentioned when someone has a child that isn't sleeping, they aren't sleeping or at least asking where they can get one.
With a child that has anxiety, the other who is just switching to a big girl bed, and me, who has to sleep with a comforter on..even in 90 degree heat..I thought it was about time to give weighted blankets a try and see what all the hype was about.
I'm partnering with Tranqulity™ Weighted Blankets on this post but all opinions are my own.
First a few things about Tranquility™ weighted blankets I want to point out:
Tranquility™ uses deep touch pressure to help people achieve a relaxed state for enhanced sleep and overall wellness.
Securely filled with small glass beads, not plastic pellets, for a smooth texture
Temperature Balancing technology keeps you warm when it's cold, and cool when it's hot
Removable cover makes it easy to clean after unexpected messes and spills
When I received my weighted blankets the first thing I noticed was how soft they were. I think I was expecting more of a quilt material but these were very soft and even the first thing my daughter said was "So soft".
The kids jump at anything new, so they spent the day curled up in their blankets on the couch loving life. I don't think they really noticed the weight on them or at least didn't mention it, the kids version are 6lbs.
I on the other hand was surprised with the weight. I didn't really think about what it would feel like, but it definitely shocked me on how heavy it felt in my arms.
We have been using the blankets for about a month now and here are my first thoughts:
My daughter had transitioned into a big girl bed a few weeks before we received the blankets. She would get out of bed 1 or 2 times week when we first put her down because she was scared of the dark, even though she had nightlights on. She was easy to put back down but it still happened time to time.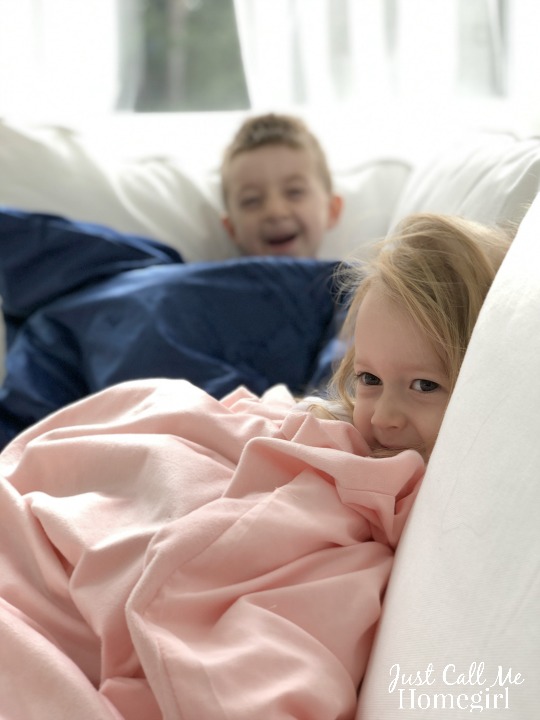 After receiving her blanket, she has only climbed out of bed one or two times and it's the only blanket she wants to use. Since we don't have air conditioning I would leave the blanket off of her on the hot nights and use use a light cover since she wants "something". After going to check in on her, she has always placed the weighted blanket on herself.
For her I think it's giving her comfort and keeping her feeling calm when being put to bed. It also might be helping her through her fears of the dark as well. For my daughter I call this a win!
As for my son who has anxiety, I haven't really noticed a difference yet, but again we are in the middle of summer with no high anxiety events going on and he's usually a good sleeper. He does love the blanket and sleeps with it every night.
I am looking forward to trying it when he starts kindergarten soon. I am hoping it will help calm him if he gets a little anxious or even when he comes home and wants to decompress from the day. I will be sure to update this post as I see difference!
As for me, I usually sleep great. I do however have to have something on me when I sleep. Even in the summer I sleep with my down comforter I don't know why I just do.
Since trying out this blanket, I have noticed that I am not waking up to change positions as often. In fact, the first night I used it, I woke up in the the same position!
The blanket is comforting, not hot and just feels really good to have some kind of weight on you. I don't know how to explain it but it almost makes you feel "safe".
So overall if you are considering a weighted blanket, I say go for it. I truly feel like it gives you a sense of calm and security and I believe it could be great for kids that have trouble sleeping. I have no downsides to trying them out.
If you are interested in purchasing a Tranquility weighted blanket you can find them at Walmart here.