Some of the following links are Affiliate links. Click here to see my full disclosure.
June
Outdoor Kid Activities
Beat the heat with an old school sprinkler! There is no need to purchase a fancy squirting Unicorn. My kids have a great time with this inexpensive sprinkler.
To keep kids busy, fill a large bowl of water, place small toys inside (cars, dinosaurs, lego etc) and put it in the freezer. On a hot day take it outside and have the kids "mine" for them! use a small hammer, cut of water to break the ice. It will keep them busy and keep them cool!
Set up the tent! Kids love "forts" and they will stay all day in a tent, and think it's really cool. Serve them lunch, snacks and games inside and they will have a blast!
Set up a "car" wash! Bucket of soapy water, scrub brush and wash cloth and guarantee kids will love washing their toy cars, rocks, baby dolls..or give them the outside toys to wash!
Create a fairy garden. Start with a door a small house and each night while the kids are sleeping add a little something to it…a rock, flower, sticks, other small items so each day they will want to see what the little fairies are creating! Have them create items for the fairy as well..plants, pathway, little furniture. They will have so much fun and give them something to look forward to each day.
Want to teach kids how to count money? Grab a bowl or tote and add sant, or slime and put a bunch of change in it. Tell them how much money they need to look for. "Go find 76 cents…go find 2 quarters. A great way to keep the learning going through the summer…and if they are right they can keep it!
MAY
Last Minute Mother's Day Gifts:
Go to Lowe's or Home Depot and pick up an inexpensive Stepping Stone. Have you're kids put their footprints or hand prints on it and seal it with an outdoor spray sealer. Something she can enjoy each year…better yet make it a tradition and do it every year to see how the footprints or handprints grow. Now she has her own little path through her garden!
Head to your local nursery and pick up a beautiful outdoor planter and some annual flowers and give her an outdoor display! Cut flowers are great but this is something that will last all summer.
If you want to take it one step further give her something to enjoy each year and pick up a flowering bush, tree or shrub. Hydrangeas and Lilacs are the perfect gift that gives each year!
Ask her what she wants! Is there a handbag, or something she would love but would never just purchase it for herself? Do it for her!
Send her to a hotel for a night. Drop her off with a bottle of wine, have room service come to her room she can do whatever she wants. Sleep, take a bath, read, binge a show. Whatever fills her cup..one stipulation…don't call her!!!
Outdoor Patio Ideas:
First, the pressure washer is your best friend! They are great for cleaning outdoor cushions, bringing your patio back to life and starting with a clean slate!
Create a cozy night even if you don't have outdoor lights on your patio with string lights! Get 3 or 4 outdoor planters, cover the hole, fill with quick set cement and add a 8′ pole before it dries. It can be a PVC pipe, 4×4 or even a 1×2 would work. then string outdoor lights from each pole!
My friend Roxanne with The Honeycomb Home did this beautifully! Check out her tutorial here.
Does your yard bug you? Literally? A few ways to help with the mosquitos and flies are to plant flowers and bushes that repel them! Basil, Citronella and Lavender are great for repealing mosquitos!
Also add citronella candles, tiki torches even a bunch of dried sage to your fire pit of you have one!
If you have an area to add curtains do it! Ikea sells a very cheap net curtain that found about $4 for a pair. The same ones I used in my sunroom. You can simply string rope from the poles you used for the lights and put them on to help with the bugs!
Add an outdoor rug! It makes it cozy, grounds the space and makes beautiful. Don't want to deal with a rug? Stencil or paint one on your deck or pavers!
April
Time to Spring Clean! My quick tips to Spring Cleaning!
Start in one room or one section of a room, a closet, the bathroom, a drawer. If you think you can tackle your whole home in a day you're wrong and you'll get overwhelmed.
Take a laundry basket with you in each room. This is where you will put items that belong in different rooms. Don't take it there when you find it! Put it in the basket and when you move rooms the basket with you and remove the items in the basket that belong in that new room and put them away. If you leave you will become distracted!
Start from top to bottom. Dust the ceiling, lights etc first. The last thing you should do is vacuum. Let the dust settle and then vacuum it up!
Vacuum shelves or surfaces first before you dust with a damp cloth. If you don't you will just end up with a mess that you're moving around.
Open the windows! Let the fresh air in.
Read cleaning labels! Don't mix cleaners.
Gloves are your best friend.
Have items you want to get rid of? Check out my guide to selling on Facebook Marketplace or Ebay.
March
Have you ever wondered about selling on Ebay. How to? What to sell? Well I have it all outlined in my beginner guide! Take a look below!
Today we talked about Valentines Day. One of the decor ideas I have was this cute centerpiece idea you could even do with the kids! Click here for full tutorial.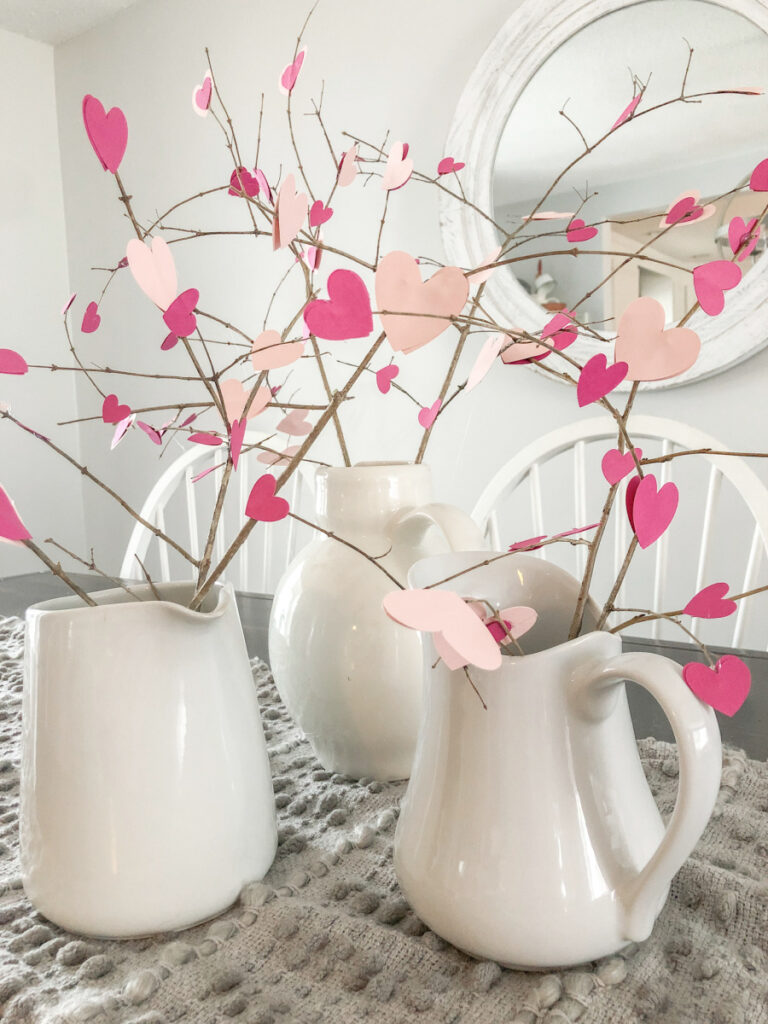 All about organizing!